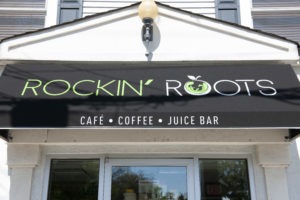 Rockin' Roots is a health-conscious café, coffee and juice bar created by esteemed Executive Chef Michael Merida. Chef Michael is serving hand crafted cold pressed juices, smoothies, acai bowls and coffees along with a fresh selection of chef driven salads, soups, savory dishes, baked goods, and more. His goal is to prepare super nutritious food that tastes great, while using environmentally friendly packaging.
Chef Michael wants to inspire people to live their healthiest life by connecting them with real food. No chemicals, just 100% pure and mostly organic ingredients from local farms and sustainable sources. According to Chef Michael, "by making everything fresh every single day, we maintain the highest nutritional value and taste. All of our fruit purees, coconut yogurt, and nut butter, are also made in house daily. We are mostly organic and have many gluten free options. We are committed to serving clean, whole food without harmful chemicals and heavy processing. I appreciate the opportunity to showcase my passion for healthy food to the local community."
Chef Michael Merida is an acclaimed, award winning chef and member of the community . He has developed some of New Jersey's current top restaurants including Mezza, Cravings Tapas Bistro, and Montclair Social Club and draws on his culinary experience from cooking in some of the world's best restaurants including The Fat Duck (UK), El Bulli (Spain), Ryu Gin (Japan), and Le Bernadin (New York). He is looking forward to meeting you soon at Rockin Roots!